FFXIV Role Play Directory - Adamantoise Server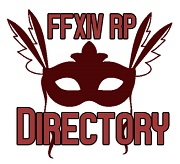 Welcome to the FFXIV Role Play Directory! The goal of this site is to create a resource that helps FFXIV role players find new potential RP connections. I hope it serves you well!

If you have a link to a character profile page, RP location page or recurring RP event that you'd like to add, fill out this form to submit your information!

Want to make a RP profile for your character but don't know where to start? Check out some tips here!
Jump To...

A - B - C - D - E - F - G - H - I - J

K - L - M - N - O - P - Q - R - S - T

U - V - W - X - Y - Z

Key For RP Preferences

🎮

🐤

💬

❓

= In Game

= On Tumblr/Twitter/Other Social Media

= On Discord

= Other
Character Profiles
~A~
Ahlis Ildilayan 🐤 💬
Ahlis Ildilayan: arcanist by trade, Scion of the Seventh Dawn & Warrior of Light. Constantly on the road, Ahlis is open to adventure, contributing to her various research ventures and any potential allies... and perhaps friends, as well!
---
~C~
Craft Ramsay 🎮 🐤 💬 ❓
Craft Ramsay is an Ala Mhigan monk that's skilled at getting into (and out of) trouble.
---
~J~
J'hola Fointeaume 🎮 🐤 💬 ❓
Hyper competent bard, sticky weird idiot when she doesn't have a bow or harp in hand.
-Top-
---
Event Info Pages
Magpies 🎮 💬
Do you enjoy occult & horror RP? MAGPIES is a discord community catering to your spookier needs! Our vision is to collaborate with various FCs and venues that employ occult & horror themes, and function as a quest-board to hand out some chilling roleplay hooks. In addition to recruiting members, we're also seeking more writers and DMs to help facilitate roleplay!
---
-Top-