FFXIV Role Play Directory - Jenova Server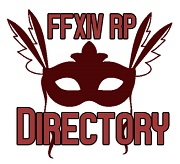 Welcome to the FFXIV Role Play Directory! The goal of this site is to create a resource that helps FFXIV role players find new potential RP connections. I hope it serves you well!

If you have a link to a character profile page, RP location page or recurring RP event that you'd like to add, fill out this form to submit your information!

Want to make a RP profile for your character but don't know where to start? Check out some tips here!
Jump To...

A - B - C - D - E - F - G - H - I - J

K - L - M - N - O - P - Q - R - S - T

U - V - W - X - Y - Z

Key For RP Preferences

🎮

🐤

💬

❓

= In Game

= On Tumblr/Twitter/Other Social Media

= On Discord

= Other
Character Profiles
~K~
Kalina Fairhaven🎮 🐤 💬
Pirate Captain and Tavern Owner, Kalina is a mix of ruthless aggression and kind caring soul. A sell-sword, with airship and crew she'll stand by your side against your foes, for the coin. Or open her tavern to you and yours for room and board, and no shortage of libations. She's a liar's dice, but don't be afraid to roll.
---
~M~
Mirai Garlond is the only child of the famed Garlean Magitek Engineer Cid Garlond and the ronin from Hingashi and former Warrior of Light Yume Aino. Mirai is researching the abilities of the primal Alexander and has become a Time Mage, able to travel through time to making sure that events unfold as they should.
---
~Y~
Yume Garlond🎮 🐤
Yume Garlond (born Yume Aino) is a Ronin from Hingashi, banished from her former homeland by her Daimyo father. She is currently a Warrior of Light and married to Cid Garlond.
---
-Top-