FFXIV Role Play Directory - Zalera Server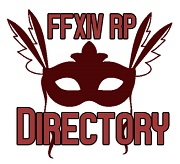 Welcome to the FFXIV Role Play Directory! The goal of this site is to create a resource that helps FFXIV role players find new potential RP connections. I hope it serves you well!

If you have a link to a character profile page, RP location page or recurring RP event that you'd like to add, fill out this form to submit your information!

Want to make a RP profile for your character but don't know where to start? Check out some tips here!
Jump To...

A - B - C - D - E - F - G - H - I - J

K - L - M - N - O - P - Q - R - S - T

U - V - W - X - Y - Z

Key For RP Preferences

🎮

🐤

💬

❓

= In Game

= On Tumblr/Twitter/Other Social Media

= On Discord

= Other
Character Profiles
~E~
(Available to RP by request, or on tumblr) The Warrior of Light — though she doesn't seem like it on the outside. She's quiet, observant, and worldly. Even without telling you, she has the look of someone who has seen it all. You can often find her wandering around Mor Dhona if she's not busy on an adventure — or bugging a Scion.
-Top-
---
~S~
S'aeil Akaruta 🎮 💬
—
---
Saeta Lemiscus 🎮 💬
Saeta is an ex-mercenary turning over a new leaf as a botanist and healer in the Gridania area. While she seems gentle and motherly at first glance, the more a person gets to know her, the more they get a chance to catch a glimpse of the feisty attitude that's kept her alive for so long.
-Top-
---