September 2021
Lalagans Visit the Crystalala Art Party
Posted on: September 5, 2021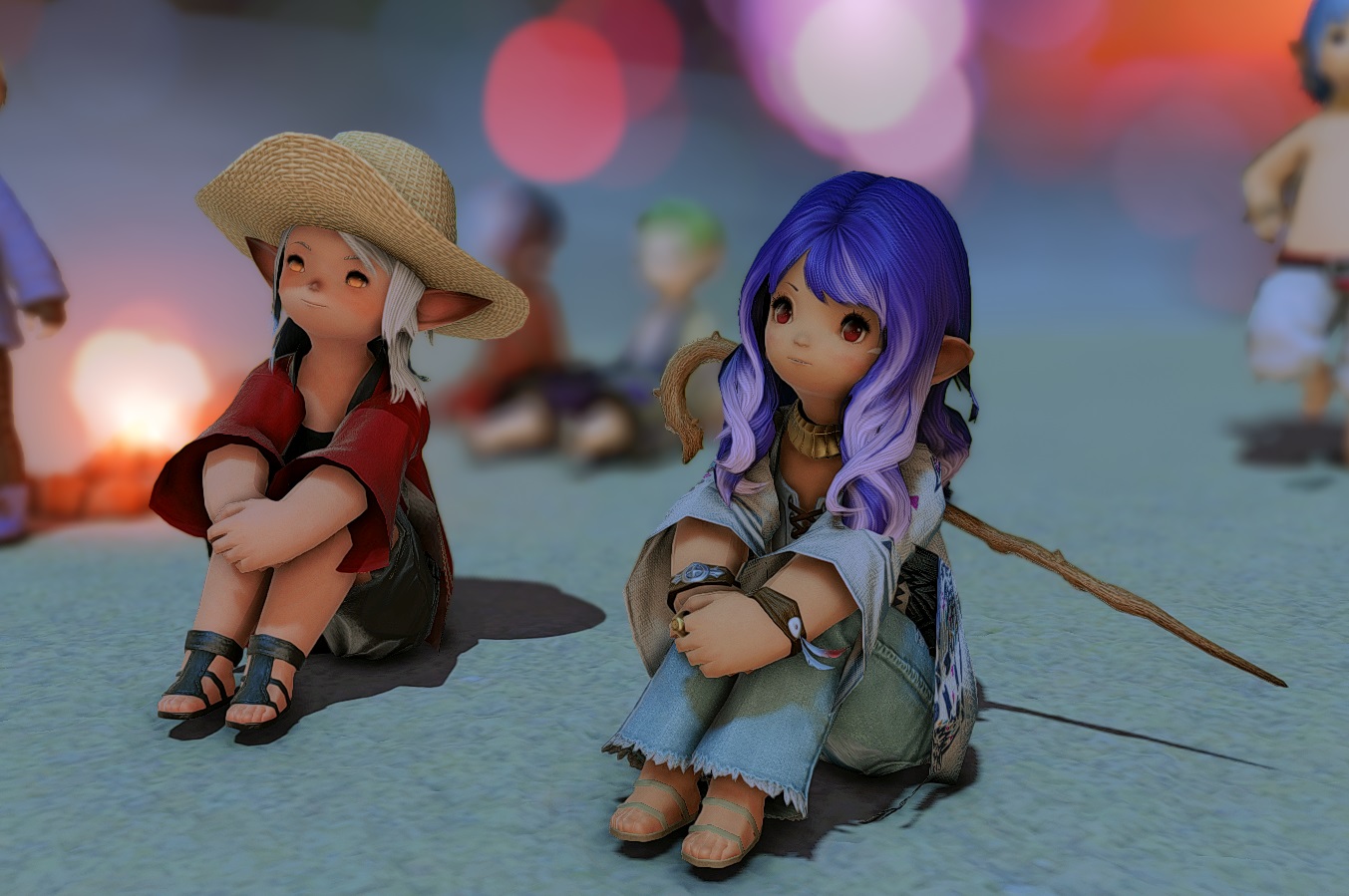 The CROWN Free Company of Malboro – a FC that the Lalafell versions of Amon and Scylla have been welcomed to – hosted a Lalafell-oriented art party earlier today. There was quite a turnout with all sorts of original characters and NPC representations in Lala form.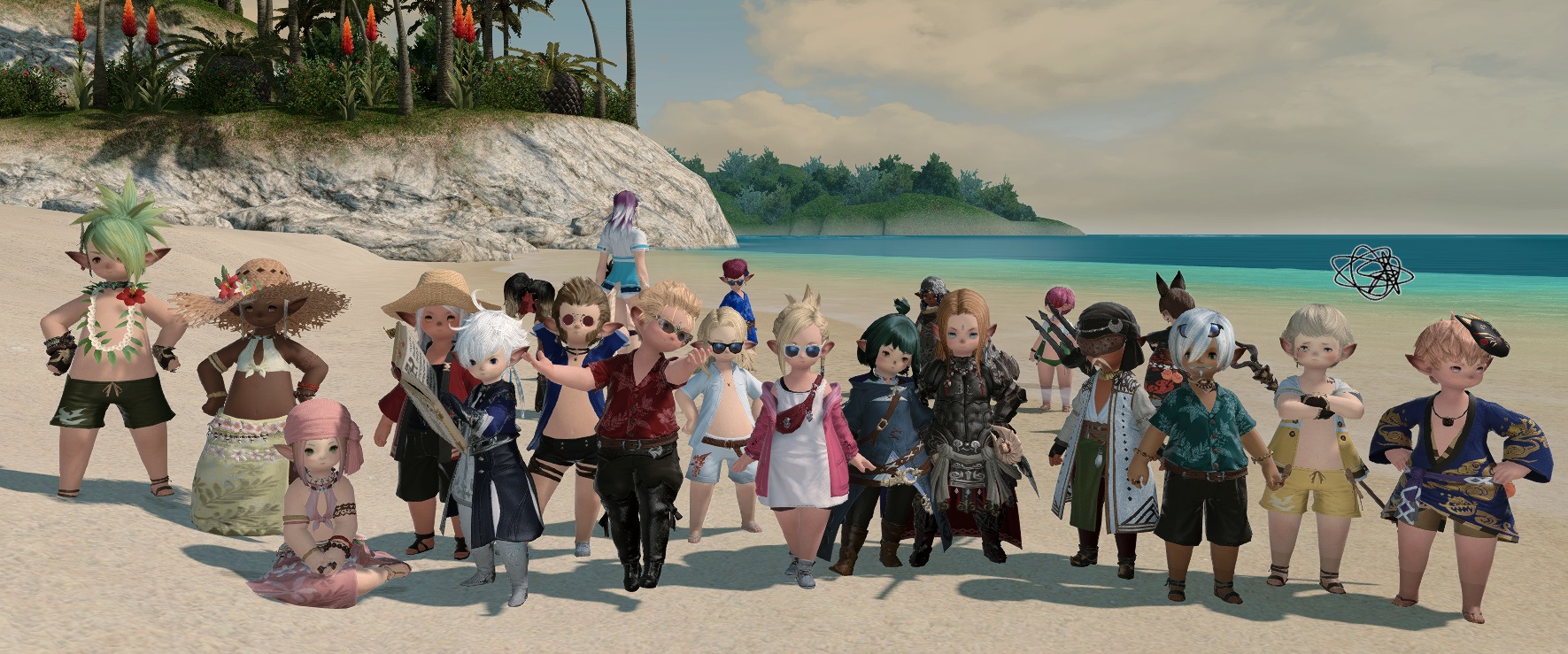 Like Amon and Scylla, these NPCs weren't all Lalafell originally – there were characters of all sorts including Ascians, Scions, Zenos and even Nero. So much creativity went into a lot of these character designs – I was really impressed. Lots of fun for the NPC crowd!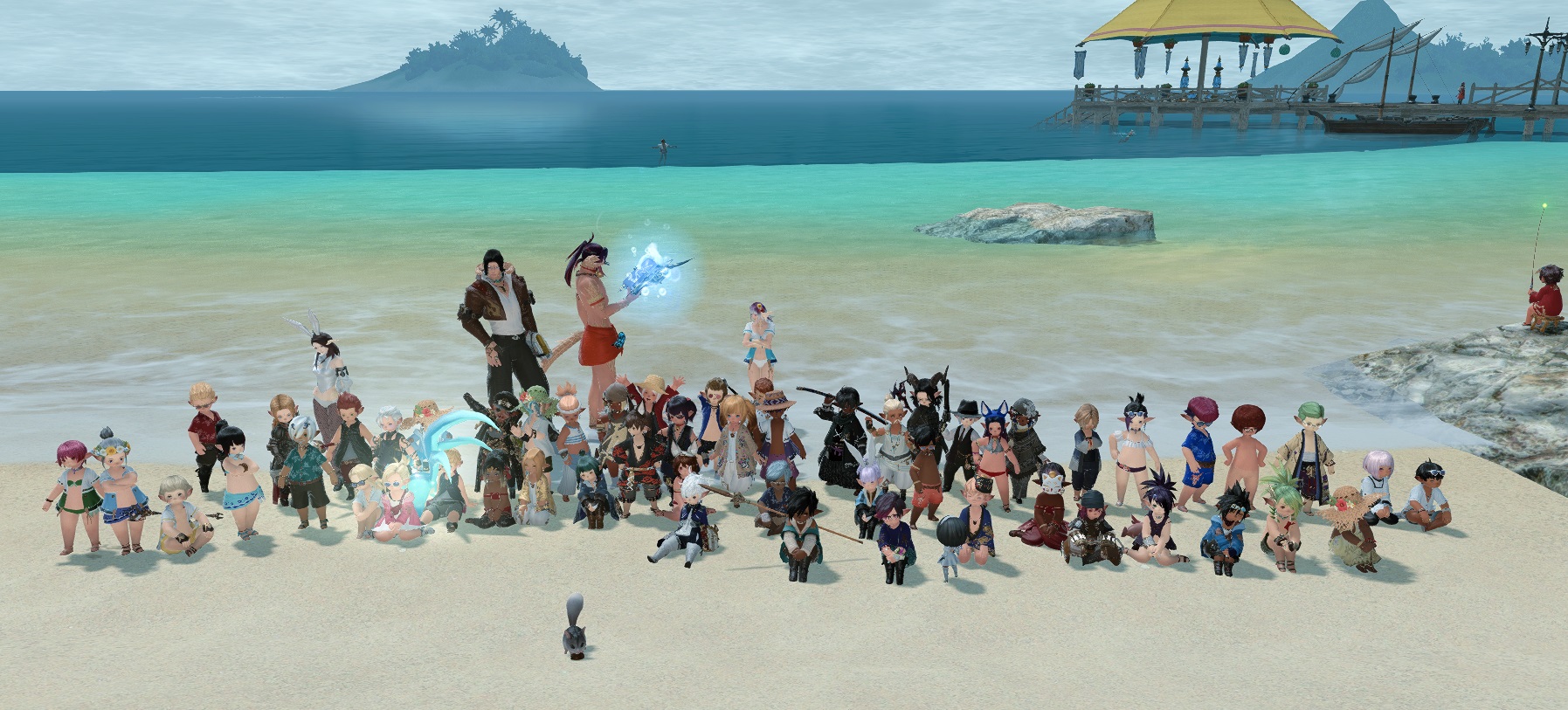 There was bard music, lots of dancing, lots of summer glamours and just fun all around. I am always happy to meet up with these folks, some which I rarely run across in-game or get to see outside of events. If all goes well, once cross-datacenter travel ramps up, CROWN hopes to host another party to include even more folks.
Oh, and check out this adorable artwork of Amon and Scylla Lalas (and other great Lalas) gifted by my buddy Yuyuhase!
Batch 2! #Cystalalaparty pic.twitter.com/4pGIC1Dz2H

— angelique (@goldeneyee_) September 5, 2021
Pantomime Emote Fun
Posted on: September 21, 2021
Sometimes an emote comes along that is so absolutely perfect for Amon that I don't think twice about the cost on the Mogstation. I don't always spend freely in cash shops, but when I see something I like or that fits one of my characters, I don't mind picking it up.
The Pantomime emote is well worth the money in my eyes. Compared to some of the dances we got before that were nothing but short, looping animations, Pantomime is a long emote with lots of varied motions and expressions.
There's a LOT of value for Gposers here – from angry/trapped looks, to strange frames when the character jumps, to the smug arm cross that turns into a backwards fall of horror and surprise. A lot of movements we haven't seen in an emote before, and they're all quite fluid and realistic.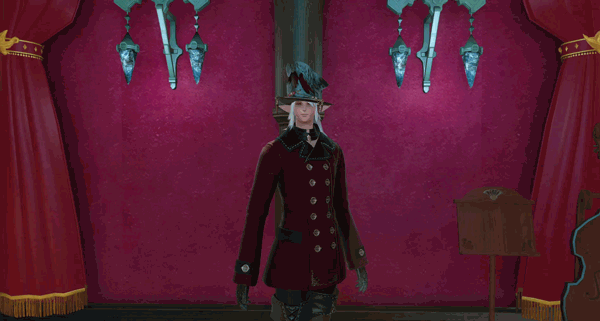 There's a few specific parts of the emote, when the character hefts themself over the invisible "wall" that make for some extra fun such as…
Rocket Amon!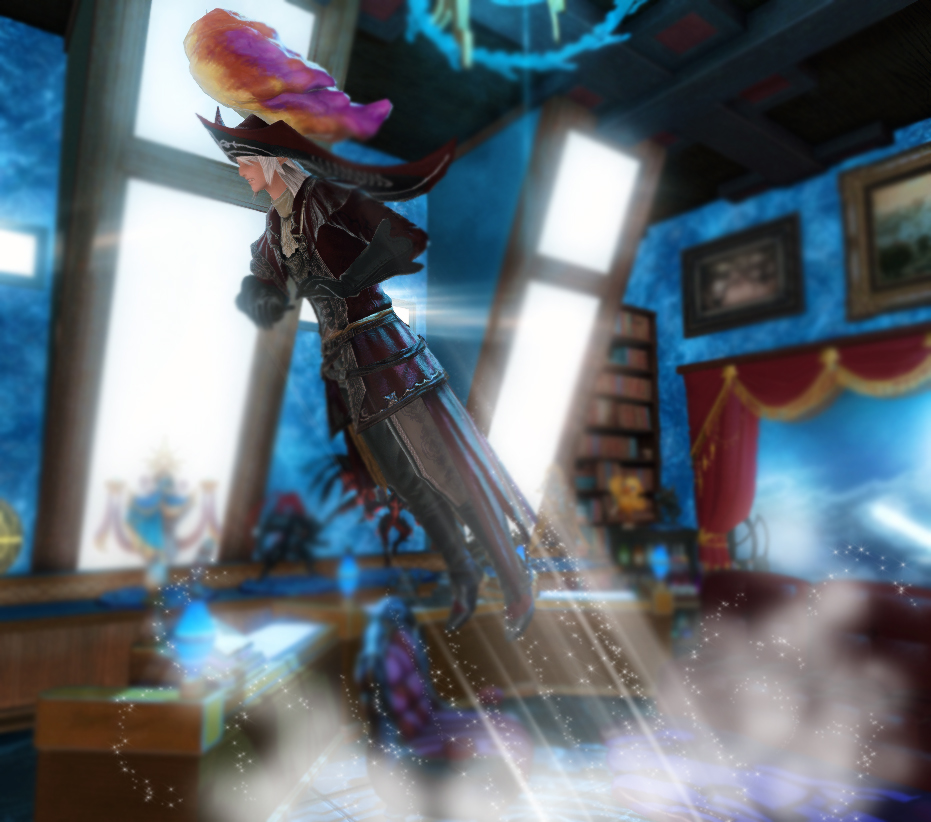 And…
Sk8ter Amon!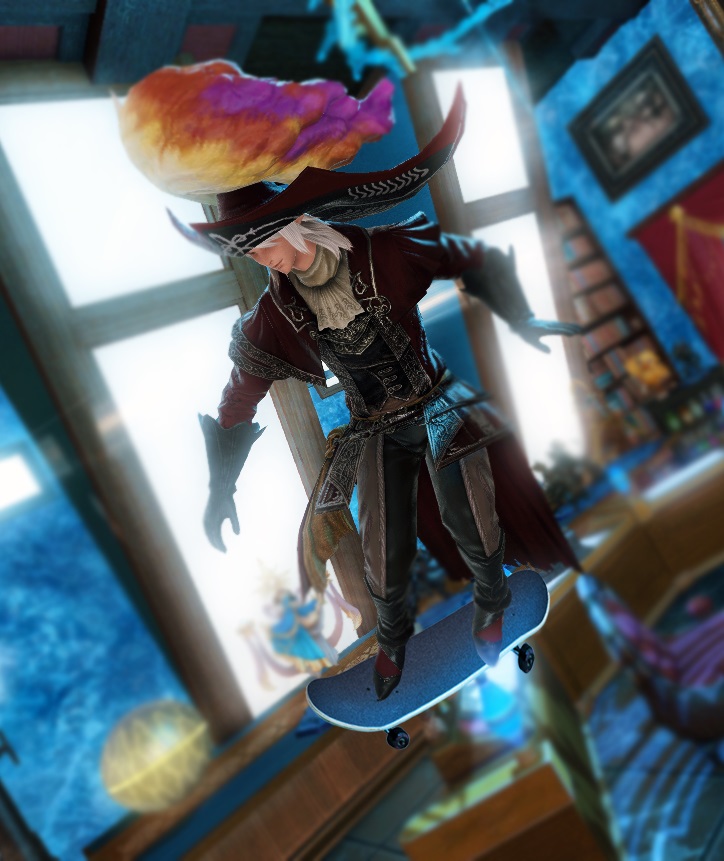 Both Photoshop edits, of course.
In-Game Vigil for Stephen Critchlow
Posted on: September 23, 2021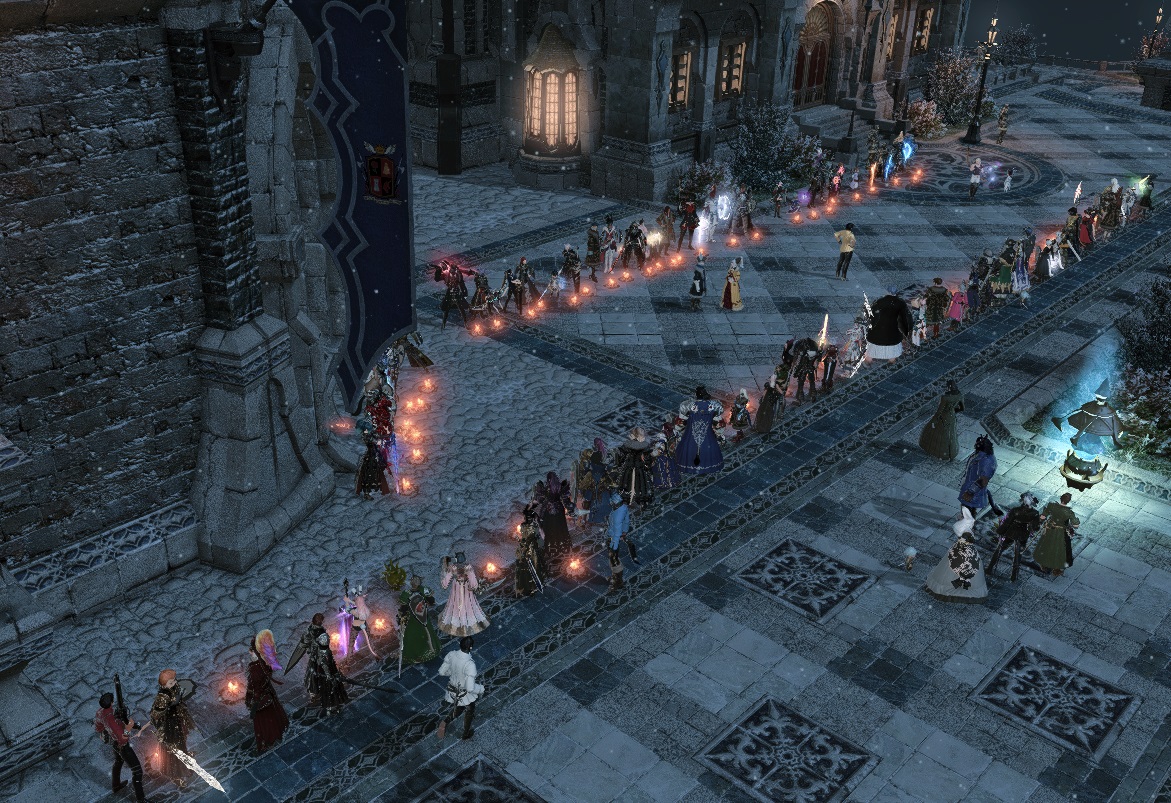 Earlier this week, the community heard the sad news that actor Stephen Critchlow had passed away. He was involved in theater, television, radio production, but more immediate to the gaming world, he lent his voice to several characters in games over the years.
To the FFXIV community, he brought to life the character Count Edmont de Fortemps – one that's looked upon as a kindly father figure for not just his own family but for the WoL in a time of their greatest need. He's also the narrator of the Heavensward story, introducing new areas as you travel – and is one of the first voices you hear in the expansion as your character stumbles through the snow-swept lands.
Due to this, the community on many servers chose to hold a vigil for him outside of Fortemps Manor. Much like the vigil seen earlier this year for Kentaro Miura, players lined up with campfire minions out. Many dressed in house Fortemps colors and most used the House Fortemps Knight title. I took part in the vigil for a few hours, as well.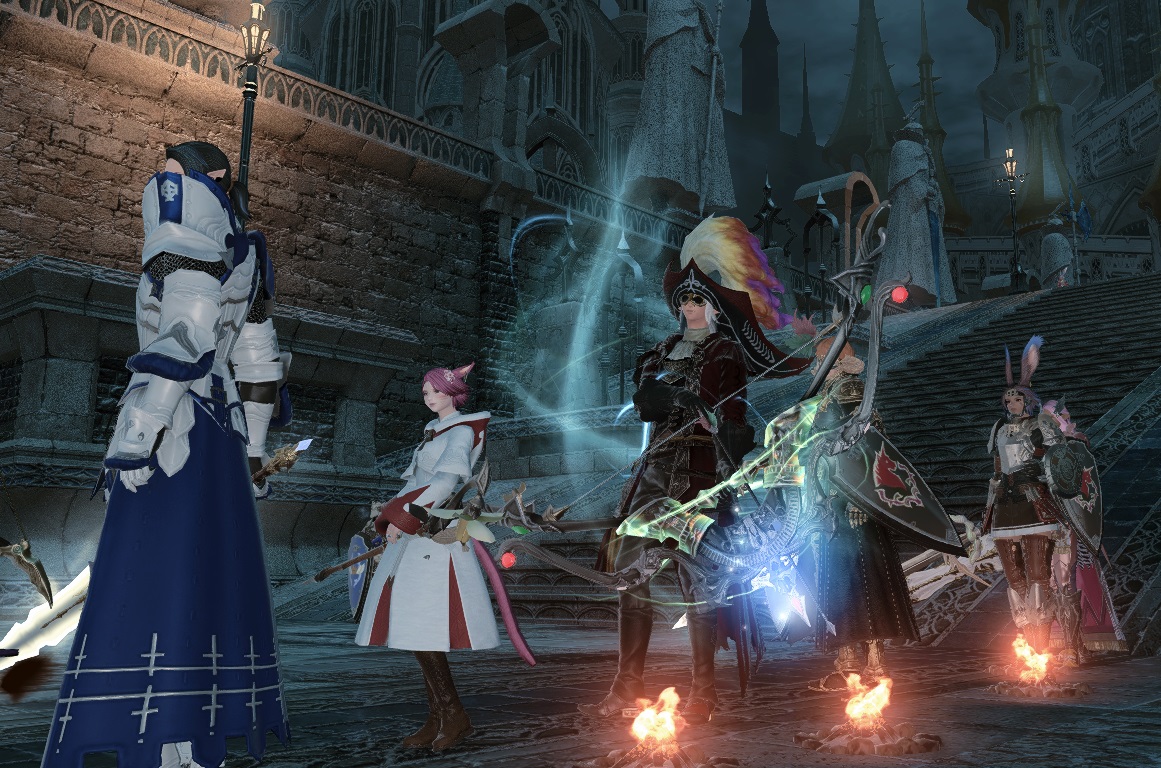 On Mateus, individuals who were able to craft the campfire minions were giving them out to folks who didn't have one and had joined the vigil. Kind words were offered about the actor and his character. Whenever someone needed to leave the event, they often announced their departure to encourage someone to take their spot in the line.
Here's a video that was captured of the vigil on my server (I wasn't there by this time), to give you an idea of the scope of it.
While it's a sad loss, it's nice to see the community come together to remember the good things that Stephen Critchlow helped create for the world. May he rest in peace.
{{-Older
Return to Archive
Newer-}}