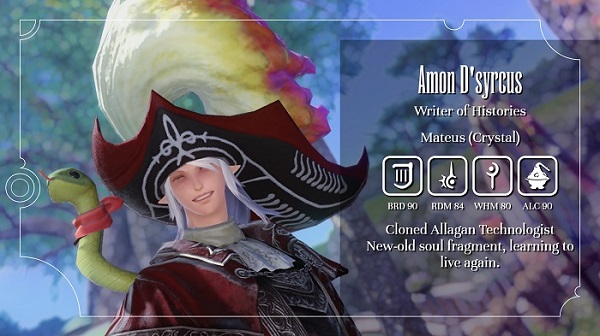 Note: This is how to make a character card that you can use on a website/forum/etc. This is not the in-game Adventurer Cards that were released in 6.1.
Make your own character card using this website!
You might have seen other players create a card for their FFXIV character and wonder where they got it from. This card includes information such as the FFXIV jobs you've leveled, your character's home server, and an optional short biography.
You can use this card to share character information on Discord, on Twitter, as a forum signature, or on a website or blog.
Cards are easy to make. All you need is a good screenshot of your character and your character's Lodestone number.
If you're not familiar with the Lodestone, this is FFXIV's information website. It includes every character, free company and linkshell that exists, including yours. Each character is assigned an individual number that the Lodestone uses to identify them.
If you don't know how to find your character's Lodestone page, simply go to the Lodestone character search, then search for your character by name and server. Note, this is the Lodestone for NA players. Players in other regions have a different Lodestone.
The number that the card maker needs is at the end of the URL on your character's Lodestone page. This provides the card maker with your character's basic information.
Now that you have the number, enter it into the card maker's form, then choose the screenshot you'd like to use. From there, you can use the card customization options to select what other information you'd like to add.
Once you've got your card to your liking, click Save Card to download it.
You'll probably want to rename your image, but your FFXIV character card is now complete! Have fun!