Spot of Simmery- 11: First Family Harvestfest
How do you know that it's Harvestfest time? Weird gnomes stalk you in bed, first thing in the morning, before you wake.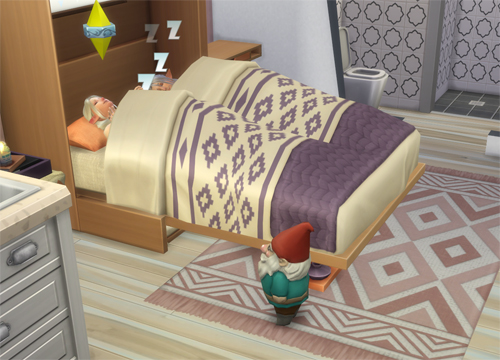 And then weird gnomes stalk you while you're trying to make a family meal. What's up with that gnome that's only wearing a censor box, anyhow? This is a family friendly household!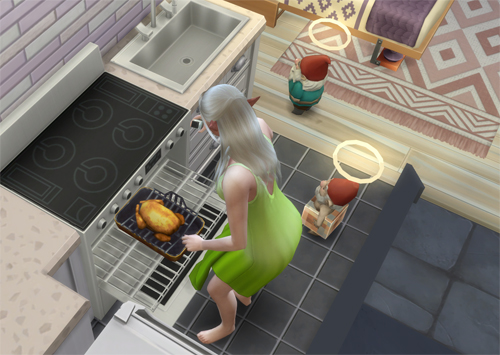 At least, pleasing the gnomes drops many packets of seeds, which is great to expand on the garden throughout the seasons. Enio is making good money from his job, but Iva is still working on her gardening skill since she tends to be at home. The more crops I can get planted (for free) the more she can contribute to the household!
The two of them spend their first holiday as a married couple pretty chill. Iva doesn't even get out of her pajamas to cook and eat the meal! She must have taken some cooking tips from Enio because they both seem to think it's pretty tasty.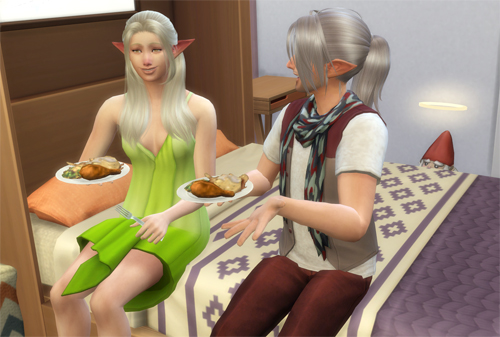 The house is still very small and the Murphy bed is all they have to sit on to eat - no one made the bed and put it back into sofa form. Told you they were being pretty chill.
Oh, and it looks like they've got a jealous onlooker back there. Silly gnome, meals are for sims!
Anyhow, it's good they had some quiet time together because pretty soon, things are going to get a lot more chaotic in this house!